When zooming through the Score Rally, you'll need to complete all laps by reaching checkpoints within a designated number of moves. Each Checkpoint you reach gets you a once-per-event fantastic prize!
In this challenge, you will have 15 minutes to reach all the checkpoints and complete the challenge to win all the prizes and to keep your Booster. Each checkpoint reached will refresh your move counter. When starting a new lap, you'll begin from the last checkpoint that you reached. However, if you manage to finish a lap with additional moves they will be added to your booster's energy.
In this mode some Boosters will act differently:
Vinnie Valentine/SE - Will create fewer hearts than in regular matches. Two hearts for Vinnie Valentine-SE and three for Vinnie Valentine.
Monkey Joo Joo - Will summon four Voodoo Skulls on the first activation and then one Voodoo Skulls on the second activation and above.
Brocco Boogie - Will throw only two Disco balls on every activation.
Cleo Cadabra - Will throw only one Scarab on 2nd activation and above.
All Aboard SE - will throw 3 Bandits on the board instead of 4.
You can try to complete this challenge as many times as you wish, however, collected prizes cannot be gained again.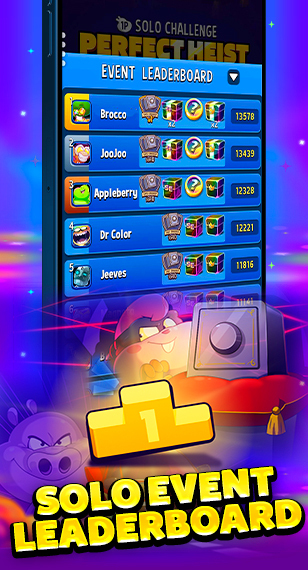 When playing solo challenges you can continue playing it even after you've achieved the last goal, so that you can get the highest score per game shown on the Leaderboard.
Do you have what it takes to speed through the race?
Stars
In Score Rally, every checkpoint you clear gets you a Star!
Please note that these Stars will be added without a post-game animation.
*Available for players with 4.500 Trophies and above.